Curtain e-locker
Data Loss Prevention
Protects your sensitive information in just a few clicks



Support over 500 applications & keep on growing

Restrict file save, copy, print & screen capture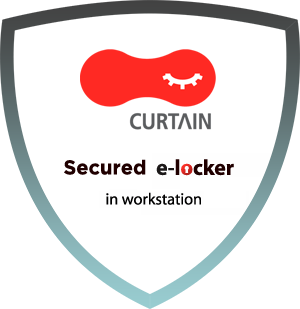 Security Threats
Much of the information generated today exists in an electronic format. In everyday operations, users have access to, and work on, sensitive information. However, it is challenging for companies to control how the users use the information. Once users have access rights to a piece of electronic information, in a sense they "own" the information and as such, they can easily "leak" the information out of the company via different channels (e.g. email, Internet, USB disk, etc) or mis-use or illegally use the information.
The Problem
When a user is authorized to access a file (read/edit) or a system, it is difficult to prevent the user from copying and take the file/information out of the company.  Such security breaches can occur by removable devices, through Gmail/WhatsApp/online meeting, by connecting personal hotspot, screen capture, etc. Some companies try to block some communication channels, such as USB port. However, there are too many channels nowadays. It is hard for IT people to adopt different systems to control loopholes one by one. Moreover, it is impossible for users to work effectively if all communication channels are blocked.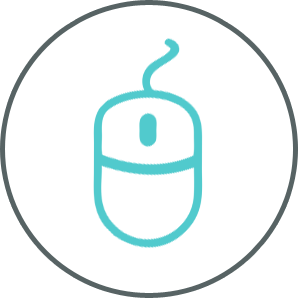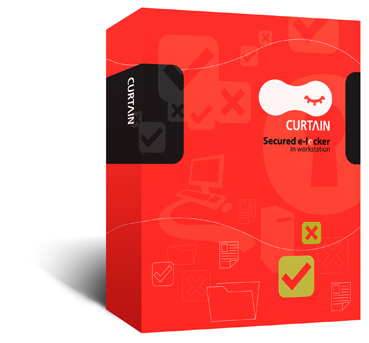 Curtain e-locker changes "Uncertainty" to "Company Practice"
It controls:
Save Anywhere

Send

Print

Print Screen

Copy Content to Anywhere

Copy File to Anywhere
Architecture
With Curtain e-locker, there is a Curtain Policy Server. Administrators can define which systems (e.g. share drives, web system, ERP, CCTV system, etc) in server are protected by Curtain e-locker. In order to access Protected systems, by default Curtain Client must be installed on user's workstations. A secure folder (i.e. Local Protected Directory) will be automatically created in user's workstation during installation of Curtain Client.
Then administrators can define different control policies for users/user groups centrally in Curtain Policy Server. Curtain e-locker has a unique design called Protected Zone (i.e. combined by Protected system in server and Local Protected Directory in user's workstation). Users can work with sensitive information within the Zone as usual (e.g. Read, Edit, etc). However, they cannot take the information out of the Zone if they are not authorized. At the same time, users can still use Internet, email, and etc.
Features of Curtain e-locker
Control Saving / Printing / Sending
Control Print-Screen / Copy-n-Paste
On-screen watermark
Integration with Active Directory
Password management
Supports over 500 Applications
Online / Offline Protection
Secure generation of PDF file
Secure internal file sharing
Housekeeping of downloaded files
Admin delegation
Self protection for the software
File / Print log
Watermark for printout
Snapshot for printout
Approval for sending file out
Copy-out with declaration
Local encrypted drive
Curtain e-locker is an all-round & complete solution to your problems
Prohibits confidential data from being taken away or copied to other/ external sources

Stops confidential data from being leaked unintentionally

Differentiates your products/services from competitors

Mitigates the risk of legal liability

Complies with regulations

Changes "Uncertainty" to "Company Practice"
Helps expand your business with invincible security
Supported Applications
Curtain e-locker has a great support coverage on applications. It supports not only general office applications, but also CAD/CAM software, multimedia applications, ERP systems, CCTV systems, programming tools, and so on. However, if you want to secure an application but which is not in our support list, please feel free to let us know. Many more software applications would be covered in days and years to come!
Please check out here to see the common applications already been covered:
Office Utilities
7-Zip

Adobe Acrobat

Adobe Reader

CutePDF Writer

Google Chrome

IrfanView

Microsoft Access

Microsoft Edge

Microsoft Excel

Microsoft Internet Explorer

Microsoft OneNote

Microsoft Paint

Microsoft PowerPoint

Microsoft Project

Microsoft Visio

Microsoft Word

Nitro PDF Pro

Notepad

OpenOffice

PDF Complete

PDFill PDF

SnippingTool

WinRAR

WordPad

Windows Explorer

Windows Media Player

WPS Presentation

WPS Spreadsheets

WPS Writer

WinZip
CAD/CAM Software
3ds Max

3DVIA Composer/Player

Altium Designer

AutoCAD

AutoCAD Electrical

AutoCAD Mechanical

Autodesk Fusion 360

Autodesk Inventor

CATIA

CAXA CAD/Mechanical

CCAD Free/Professional

Creo

DWG editor/TrueView

Gerber AccuMark

JewelCAD

MasterCAM

Matlab

PADS

Pro/ENGINEER

PTC Mathcad Prime

Rhinoceros

Solid Edge

SolidCAM

SolidWorks

SolidWorks Composer Player

SolidWorks Electrical

SolidWorks Simulation

SolidWorks EPDM

Unigraphics NX

Zhong Wang CAD
Graphics & Multimedia
ACDSee

ACDSee Pro

ACDSeeQV Pro

Adobe After Effects

Adobe Animate

Adobe Bridge

Adobe Illustrator

Adobe InDesign

Adobe LightRoom

Adobe Photoshop

Adobe Premiere Pro

Canon XF utility

Capture NX-D

Corel PHOTO-PAINT

CorelDRAW

HandBrake

JDPaint

LaserCut

LayOut

Media Composer

Media player classic

OptiTex Mark

OptiTex Modulate

OptiTex PDS

PE DESIGN NEXT

PhotoImpact

Quick Time

Roland 3D Engrave

Roland Dr.Engrave

Sony Xdcam Viewer
Others
AXIS Camera Station

AXIS File Player

Backup Player/Viewer

C++ Builder XE2

Cognos Impromptu

Delphi XE2

Eclipse

Epicor ERP

File Finder

Jupyter Notebook

Genetec Video Player

Indigo Vision

Media Player

Microsoft Dynamics AX

Microsoft SQL Server

Microsoft Visual Basic

Microsoft Visual FoxPro

Microsoft Visual SourceSafe

Microsoft Visual Stuido

Multi Backup

Multi Sview/Viewer

NS Backup Viewer

Python

R Studio

QuickBooks Premier

SAS Enterprise Guide

Smart Player

SmartPSS

XProtect Smart Client

VLC media player
System Requirements
Intel Pentium or above processor
WinXP/Vista/Win7/Win8/Win10/Win11/
Server 2003/2008/2012/2016/2019/2022
128MB RAM (Recommended 256MB RAM)
200MB Hard Disk (in NTFS) for installation
TCP/IP network
Licensing
So, how much is a license and how does the calculation work? Well, literally we have 2 types of licensing model, Perpetual and Subscription. After selecting licensing model, you should purchase licenses for protecting your client workstations and backend systems.
Select licensing model first (Perpetual or Subscription)

On client-side, choose to purchase the required license (Office Suite or Universal License) according to the number of workstations or the number of concurrent users, and you can purchase a mix of Office Suite and Universal license. Example: Buy 20 Universal licenses for design department to protect design documents, and buy another 100 Office Suite licenses for other departments to protect general office documents.

For backend system, purchase the corresponding backend system module for the system that needs to be protected. Example: If you need to protect share folders on Windows file server, you should purchase Curtain e-locker Protector for Windows File Server. No matter how many file servers need to be protected, only one file server protection module is needed.
Curtain e-locker Office Suite covers all our supported office applications, such as MS Office, Adobe Reader, etc. (See the list of Office Utilities in supported applications)
Curtain e-locker Universal License covers all our supported applications, from office applications to professional design software and CCTV systems, such as AutoCAD, SolidWorks, etc. It also includes Curtain e-locker Office Suite.
For example: A company wants to implement Curtain e-locker to protect share drives on 5 Windows file servers, protect CAD/CAM files for 20 workstations in R&D department, and protect general office documents for 100 workstations in other departments.
License Required:
– 1 x Curtain e-locker Protector for Windows File Server (for protecting Windows file server)
– 20 x Curtain e-locker Universal license (for R&D department)
– 100 x Curtain e-locker Office Suite (for other departments)